-- Today We Introduce You India's Best English Practice App For Beginner to Expert . App Name is "Today English Speaking India " Now I Am Guide You How to use this today English app for English learning , All step by step process are given below Of best english speaking app in india free. 
**** Do You Know that what's important for English speaking.  Practice , practice , Always Practice. ****
Now Let's know about how to start English speaking practice with help of

"Today English" app.
Step - 1 First You Need to install "Today English speaking" app , Download Link is given below. 
Step- 2  After Install the Today English application you need to create free account by mobile number or email id " Video in given below". 
Point-3 After Create account you have appear blank home page, you need to follow Existing user for valuable home feed On Practice english app,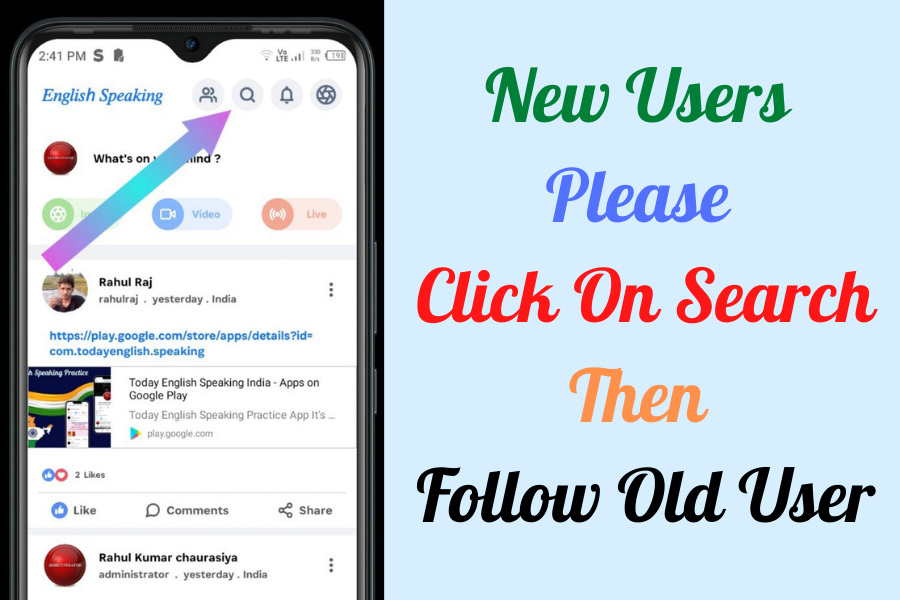 Point - 4  Now let's know how to follow popular learner on today English speaking app for valuable English Content also you can Follow me by Name "Rahul Kumar Chaurasiya '" When you on home on home page of Today English Speaking App , you can see search icon at second top right corner , click on search icon ,
You have show new page click on search bar and you are able to search by user name then click on user profile and check user profile , if user Helpful for English Practice you can follow them , You Can send welcome massage for Emotional Bonding. if you are not able to understand how to do this , Check Video Given .
After Follow Populer user you need to complete your user profile 
Point - 5  
----- Don't warry i will guide you how to complete your profile  Attractive All Steps Are Given Below , Click On Right Down Left Corner after Click You have show New Page you are able to see edit button at top left corner , after click you have show profile edit page,  Check Video Are Given .
1. First Enter Your Full Name
2. Upload Your Profile Picture 
3. Set Your Public Username Ny Help Of Your Name People Can Search Then Follow You For Better Experience .
4. Important Step complete your Bio  , "Short Introduction of Yourself.
5. Fill You City Location Ex:-  Saran, BIhar
6. If you have your perosnal website or blog you can mantion it , also you can give your Twitter Profile link.
Finaly Profile Section is Completed After Filling all Details click on Save Button .... Welocme On Practice english app
One More Thing you can change profile background Image.....
Point 5 - The question of all the people will be, why should we use this App? 
About Today English Mobile App - Today English is a community of english learners in india beginner to advance , That's We Called  Best spoken english app in india .
Let's Talk About Best app for english speaking practice

Our free online language learning tool helps you master English by providing you with real-world examples of spoken English. Learn how to speak English fluently in this free online course. The lessons cover grammar, vocabulary, pronunciation, and conversation skills.
Learn English Online - Free!
This free online course will help you learn English as quickly as possible. You'll start by practicing listening comprehension, followed by speaking practice. Then you'll move on to reading and writing exercises.
Learn English Online - Pro
We've been teaching people how to speak English since 1996. Now we're offering our proven methods for free so you can learn English fast.
Learn English Online Free.
You'll find thousands of authentic audio clips, interactive exercises, and quizzes to help you improve your listening comprehension, vocabulary, pronunciation, grammar, and more.
Speak English Online Free.
We've got you covered! Whether you're looking to brush up on your skills before an upcoming exam or just need some practice speaking English, our free online language learning tool will help you master English by providing real-world examples of how native speakers speak English.

Improve your English skills by using the best English practice app available on Google Play Store. The best English practice app for Android devices helps students improve their English language skills by providing them with a wide range of exercises that cover grammar, vocabulary, pronunciation, writing, listening comprehension, reading comprehension, and speaking.
This app has been designed to help students learn English at any level. It provides an extensive collection of exercises covering every aspect of the English language. The app also includes a dictionary, a phrasebook, and a grammar guide.
Download the app and start learning English today!
If you are looking for a free app to improve your English skills, then download the best English practice app now. You will find yourself improving your vocabulary and speaking skills with just a few minutes of daily use.
Read articles written by native speakers.
There are many ways to learn English. One of them is reading articles written by native speakers who have mastered the language. This method helps you understand how native speakers speak and write. It also allows you to see how words are used in real life situations.
Listen to audio lessons.
If you prefer listening to learning, there are plenty of apps out there that offer audio lessons. These apps allow you to listen to audio lessons while doing other things at home or work. You can choose between short lessons or longer ones.
Download other apps from the store.
There are many other apps available on Google Play Store that will help improve your English skills. but We Recommended 2 App :
1) Today English Info – This app offers free language courses with more than 100 Country . It has been downloaded more than 100k times.
2) Google Transalte – This app helps users learn new languages From Another  languages .